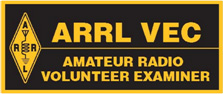 ARRL-VEC ADMINISTER FCC LICENSE EXAMINATIONS

"HAMS"
Working for
The Future of Amateur Radio
ARRL-VEC ADMINISTERED FCC LICENSE EXAMINATIONS
are conducted several times throughout the year.
Test sessions are conducted by ARRL-VEC accredited Volunteer Examiners. Sponsored by DeGray A.R.C. Inc.
DARC VE Team
*** Standing Left



* Standing Right -
* Sitting left -
* Sitting Center -
* Sitting Right -
* Not Pictured

*** For Exam information Please e-mail KB5ILY: kb5ily (AT) arrl (DOT) net or phone 870-206-6068.

Study material for Technician class. Exam Location
Andy's Hamburgers
2927 Pine St. Arkadelphia, Arkansas 71923


Those candidates wishing to earn their first Amateur Radio License, or upgrade their present valid license, need to bring the following:
1. A form of government-issued Photo ID (e.g. Drivers license, Passport, etc). When no photo ID is available, the candidate must present any two of the following:

Non-photo ID/driver's license (some states still have them);
Social Security Card;
Birth certificate (must have the appropriate seal);
Minor's work permit, school report card, school ID card or library card;
Utility bill, bank statement or other business correspondence that specifically names the person; or
Postmarked envelope addressed to the person at his or her current mailing address as it appears on the Form 605.
If you use a non-photo ID as listed above, please bring a non-returnable copy that we can submit with your application
2. The original and photo copy of your amateur radio license or CSCE notice of passing an exam element.
3. $15.00 Exam fee (exact change preferred), Cash, Check or Money Order accepted.
4. You "must" have your Social Security number, FRN (FCC Registration Number ) or TIN (Tax Payer Identification Number) with you.
Obtaining an FRN: If you do not currently have a license & have not requested an FRN, it is strongly suggested that you request one Here. Receiving an FRN prior to arriving at an exam session, you would enter your FRN on your application, rather than entering your SSN on a form in a public setting. There is no cost to request an FRN.
Printed & Mailed License: As a cost cutting measure, FCC has recently changed their policy and have stopped printing and mailing Amateur Radio Licenses. However, if you wish to receive an Officially Printed & Mailed license, after you receive your FRN you will have to login to the License Manager (using your FRN and the password you just created) and change the mailed license setting from the default of No, to Yes.
Test Fee: The ARRL VEC Test Fee will be $15.00. The fee cannot be reduced or waived, as FCC requires VECs who charge a fee to apply it uniformly throughout the calendar year. The $15 fee is charged to anyone applying for a new amateur license or applying to upgrade their license class and operating privileges as listed on the ARRL VEC Candidate Roster. That one fee pays for one attempt at each of the three exam elements.
See you Saturday, Good Luck on your Exam.
Monthly Test Sessions
---
EXAM REGISTRATION FORM
Please provide "ALL" information below. (make sure your information is correct before submitting, (Spelling etc.)



This information will go on your FCC NCVEC 605, and CSCE exam forms.

Copyright &copy 2009-2016 []. All rights reserved.
Revised: January 2, 2016